And now for something completely different…
I'd heard long ago that the restaurant at Cherry Pocket had some great food but never got around to going there before moving from the area. Lately, while googling around, I came across their website and discovered they have full-hookup RV sites, so a short dining and camping trip was in order.
Cherry Pocket is a Florida fish camp in the full sense of the term.  It's not neat and tidy, has no manicured lawn, has no particular amenities; it does have old-Florida charm and some mighty nice friendly people.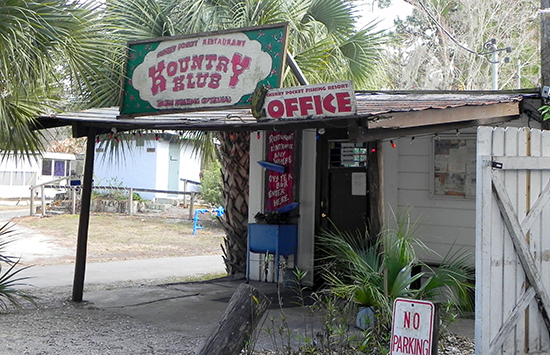 At first glance the Kountry Klub entrance doesn't seem so spiffy but that's just appearance; the restaurant/bar is pretty nice inside. Not upscale but properly clean and decorated.
A small community has grown at Cherry Pocket. There are elderly travel trailers that have screen porches and other rooms grown up around them and there are newish park models. The community is nestled along a small indentation in Lake Pierce.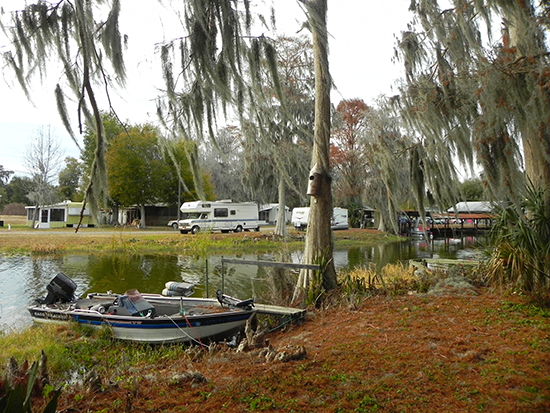 The story is that the land was owned by a man named Cherry and he said it looked like a pocket.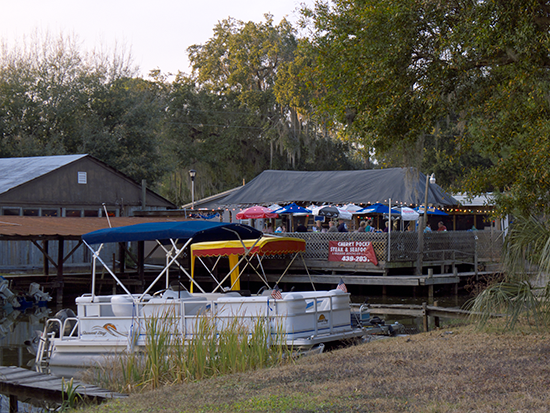 There are only a few transient RV sites; two or three near the lake and I believe a couple more off to the side.
Did I mention food? We went for dinner Tuesday evening and it turned out the be the all-you-can-eat catfish night and I definitely did my part in keeping the catfish population down. The next night we had fried shrimp and oysters, all very good.
Cherry Pocket Steak & Seafood Shak
3100 Canal Road
Lake Wales, FL 33898
ph: 863-439-2031
cherrypocket.com