South Bay is a very nice 35-acre campground provided by Palm Beach County at the southeastern rim of Lake Okeechobee. It's an oasis among many miles of cane fields.
It offers 72 paved FHU RV sites each with grill, picnic table, cable TV, good wifi throughout the campground, playground, restrooms with laundry and hot showers and a dump station. It's very big-rig friendly. The grounds and facilities are kept very clean.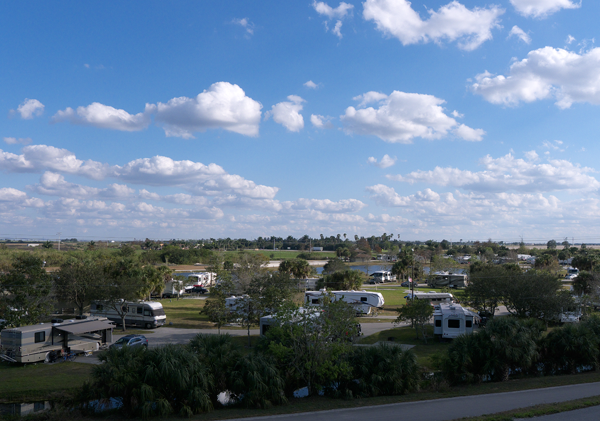 We were surprised to find a site available for a week the third week of January, the January that was already going down in history as one of the coldest in decades complete with snow along the Gulf coast from Texas to the Florida Big Bend. Although the maximum stay is 100 days many people were on the move.
This isn't a resort park; there's no pool and no planned activities. It's somewhat remote; the closest real supermarkets are in Clewiston and Belle Glade. An advantage is that it's inexpensive compared to those resort parks.
Lake Okeechobee isn't visible; it's surrounded by the 30-foot-high Herbert Hoover dike created after hurricane surge killed thousands in 1928. Next to the park is an access road across the dike to boat ramps and a fishing pier on the rim canal. Atop the dike is a gated access road that actually goes all the way around the lake and is a scenic trail. The lake itself still isn't visible because it's miles across grassy islands.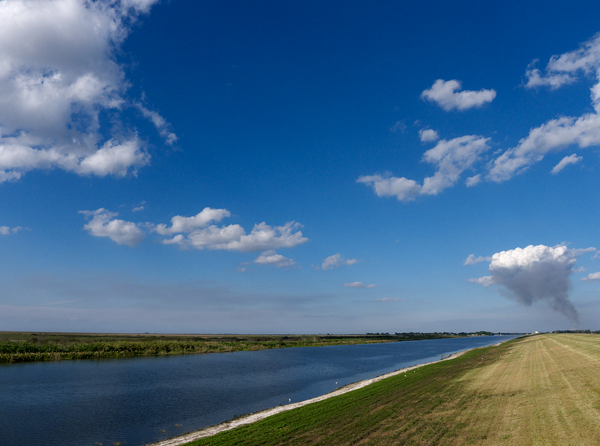 South Bay RV Park
100 Levee Road
South Bay, Florida 33493
(561) 992-9045
FAX: (561) 992-9277
TOLL-FREE:
(877) 992-9915
http://www.pbcgov.com/parks/camping/southbay/#.Uu6V2-Hz_aA