Christmas Dinner Menu:
Honey, Cranberry and  Pineapple Glazed Ham, Fresh Asparagus garnished with Caramelized Onion and Water Chestnuts and Parker House Rolls!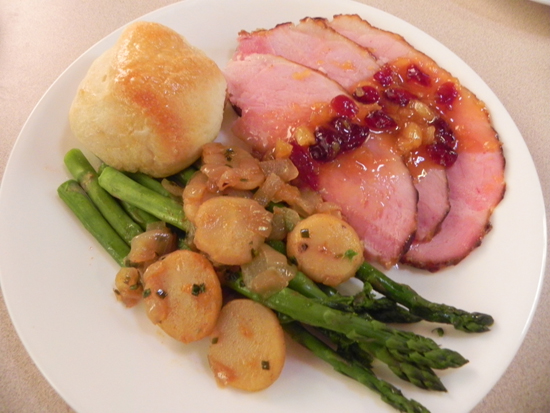 ***
Yes, Christmas dinner is being cooked in our little camper kitchen, for two! I was not about to spend my special dinner amongst strangers in a restaurant! I figured that since Thanksgiving dinner was a huge success, why not pull off a great feast in a camper once again.
The trick, is to organize and prep in stages! Taking turns in that small space and it has to be organized. John will prep the ham, put it in the oven and start the timer! I then dance around him, ever so gracefully mind you, and chop the onion and start them caramelizing! Setting aside my beloved water chestnuts, olive oil, butter and cayenne to combine later!
John will then spin around me to make the glaze for the ham. This glaze is going to be so good! It has corn syrup, honey, crushed pineapple, peach nectar, and a little grated ginger in it, and cooked slowly over  low heat to thicken!
Meanwhile, while I edge my way back to the stove every few minutes to stir my onions and water chestnuts, John will spin around me to glaze the ham every 10 minutes or so! What a team!
When the ham is almost done, I'll start the Asparagus, we'll use the caramelized onions and water chestnuts as a garnish for them later on! I learned a new trick from Alton Brown from FoodNetwork.com on how to keep fresh asparagus looking fresh and keeping that pretty greenness and still have that little snap! I put the recipe over at our cooking website, My Camper Kitchen!
We'll bake those famous Parker House Rolls and prepare a quick and easy desert,Strawberry Cobbler in small Ramekins!