If you are ever in Florida, you've got to check out Manatee Springs. If you enjoy seeing wildlife, this is it! I took photos of deer, squirrels, otters, raccoons, birds and a natural spring that is so crystal clear, it's amazing!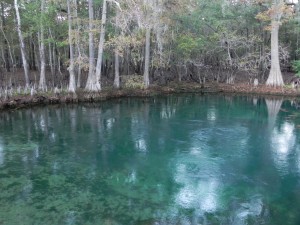 The campsites are in wooded area's and you have a grill and fire pit for use. There's a camphost next to the bath house which is well kept. It is pitch black at night, so a campfire is great and will attract curious wildlife no doubt. With no city lights in the horizon, the stars are very bright at night. All you will hear is the sounds of nature.
I saw an otter and I followed him a long all along the spring taking snapshot after snapshot! It was if he was showing off because he knew his picture was being taken. He frolicked in the water and kept looking up to see if I was looking at him. He didn't mind me being there at all, and I'm sure he was very used to folks walking the trail next to the spring snapping pictures and it seemed as if he was enjoying this almost as much as I was.
All the wildlife seemed to ignore us humans which made picture taking so much fun! As we walked the trails, there was countless wildlife all around us and you will be truly captivated by this harmony that surrounds you.
We also saw a lot of deer! Our first night we had six deer walking across our campsite even before we had parked our RV and, one night, we were invaded by a whole troop of raccoons! This was just after we had grilled those steaks! This trip was a photographers dream come true. Amateur or professional, you are sure to have a great time capturing moments of wildlife at Manatee Springs State Park.
Even the squirrels seem to show up at a moments notice and would hang around posing for a photo! One squirrel seemed to be playing hide and seek, who knows! You will certainly get your fill of squirrels all around you.
There was so much to see here, great trails to walk, everything was simply beautiful. Here's information if you ever want to camp at Manatee Springs State Park. The park is located at the end of S.R. 320, off U.S. 98, six miles west of Chiefland. If you get a chance to camp there, I hope you enjoy it as much as we did, we will definitely be returning next year.
Manatee Springs State Park
11650 N.W. 115th St.
Chiefland, Florida 32626
(352) 493-6072
Reservations are made at ReserveAmerica.com